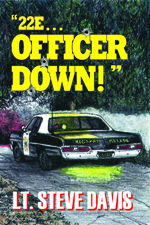 Lieutenant Steve Davis,

California Highway Patrol (ret.), "worked as a Traffic Officer, Field Sergeant, Dispatch Center Commander, Field Operations Lieutenant, and Area Commander during a unique 32 year career that included an eighteen month assignment in Washington D. C.

His last assignment, as Commander of the Clear Lake Area, and seven years experience as Team Leader of the CHP"s Northern Division Shooting Investigation Team provided powerful insight into the drama and intrigue that led to this fictionalized story, 22E ... Officer Down!
According to the book description of 22E ... Officer Down!, "When California Highway Patrol Officer Sonny Tyler is gunned down on a rural Northern California road near Eureka in 1970, the Humboldt County Sheriff's Office puts their best man on the case."