Massive sports memorabilia bootlegging: just another day on the job for American police officers! Get the
latest
and
best police news
as it happens!
WASHINGTON - With the conclusion of Major League Baseball's 2011 World Series, U.S. Immigration and Customs Enforcement's (ICE) Homeland Security Investigations (HSI) and the National Intellectual Property Rights Coordination Center (IPR Center) have announced the results of "Operation Strike Out." This one-month operation, which commenced at the beginning of the American League and National League Championship Series, has resulted in the seizure of 58 commercial websites that sold and distributed counterfeit sports paraphernalia. HSI special agents have also seized 5,347 items with a manufacturer's suggested retail price (MSRP) of $134,862.
"HSI and the IPR Center have made a major dent in these criminals' plans to profit from fan enthusiasm surrounding a very exciting seven-game World Series - both in U.S. cities and in cyberspace," said ICE Director John Morton. "Counterfeits products represent a triple threat by delivering shoddy and sometimes dangerous goods into commerce, by funding organized criminal activities, and by denying Americans good-paying jobs. Homeland Security Investigations and our partners at the IPR Center will continue to work together to keep all types of counterfeit products off our streets."
The seizure of the 58 domain names is the seventh phase of "Operation In Our Sites," a sustained law enforcement initiative to protect consumers by targeting counterfeiting and piracy over the Internet. In June 2010, the IPR Center began "Operation In Our Sites." Since the launch of this operation in June 2010, the IPR Center has seized a total of 200 domain names and redirected those domain names to a seizure banner.
Previous website seizures include:
•First phase: 10 domain names
•Second phase: 82 domain names
•Third phase: 10 domain names
•Fourth phase: 18 domain names
•Fifth phase: 5 domain names
•Sixth phase: 17 domain names
The 58 domain names seized in this phase of "Operation In Our Sites," were all commercial websites engaged in illegally selling and distributing counterfeit sports paraphernalia. During the course of the operation, federal law enforcement agents made undercover purchases of sport jerseys from online retailers suspected of selling counterfeit goods.
Once the materials were confirmed to be counterfeit or otherwise illegal, ICE HSI special agents obtained seizure orders from federal magistrate judges for the domain names of the websites that sold or distributed the items. In most instances, the counterfeit goods were shipped directly into the United States from suppliers in other countries using international express mail. The 58 websites have all been shut down and now show a banner stating that the domain name of that website has been seized by federal authorities. The seizure banner on the seized sites has received nearly 75 million individual views.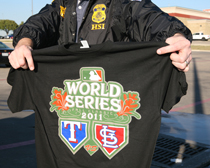 The seized counterfeit items infringed on the copyrights or trademarks owned by: Major League Baseball, the National Basketball Association, the National Football League and the National Hockey League.
Eighty-six of the 200 domain names seized have now been forfeited to the United States government. Through the forfeiture process, individuals who have an interest in the seized domain names are provided a period of time after the "Notice of Seizure" to file a petition with a federal court and additional time after the "Notice of Forfeiture" to contest the forfeiture. If no petitions or claims are filed, the domain names become property of the U.S. government.
In April 2011, the IPR Center launched a public service announcement (PSA) that appears on each of the 86 forfeited domain names. This video has received nearly 200,000 individual views on ICE's YouTube page, educating the public about the economic impact of trademark counterfeiting and copyright infringement. The PSA helps deter future crimes and raises awareness.
The "Operation In Our Sites" portion of "Operation Strike Out" was spearheaded by the National Intellectual Property Rights Coordination Center (IPR Center); as well as HSI offices in Baltimore; Denver; Detroit; El Paso, Texas; Houston; Seattle; St. Paul, Minn.; and in coordination with the following U.S. Attorneys' Offices: Southern District of Texas, District of Colorado, Eastern District of Michigan, Western District of Washington, Western District of Texas, District of Minnesota and District of Maryland.
Last week, "Operation In Our Sites" received recognition by the International Association of Chiefs of Police (IACP). The IPR Center received an IACP Award for Excellence in Criminal Investigation for its work in targeting counterfeiting and piracy on the Internet. The award recognizes quality achievement and innovation in managing and conducting criminal investigations with the goal of sharing information to advance the art and science of criminal investigations.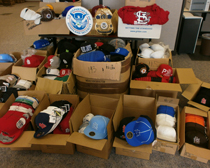 ICE HSI special agents operated in multiple teams to identify stores and vendors selling counterfeit trademarked items. These teams - operating in Dallas; Detroit; Milwaukee, Wis.; and St. Louis - have seized 5,347 items of phony World Series-related memorabilia along with other counterfeit Major League Baseball and sports related items to date totaling $134,862. Ball caps, t-shirts, jackets, tickets and other souvenirs are among the counterfeit merchandise and clothing confiscated. Three individuals were also arrested on federal and state counterfeiting violations.
The breakdown of seized items include:
•Dallas: 270 items with an MSRP of $6,934
•Detroit: 913 items with an MSRP of $16,120
•Milwaukee: 106 items with an MSRP of $3,180
•St. Louis: 4,058 items with an MSRP of $108,628
The IPR Center is one of the U.S. government's key weapons in the fight against criminal counterfeiting and piracy. The IPR Center uses the expertise of its 19 member agencies to share information, develop initiatives, coordinate enforcement actions, and conduct investigations related to IP theft. Through this strategic interagency partnership, the IPR Center protects the public's health and safety, the U.S. economy and the war fighters.