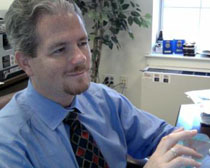 They were engaged in a bitter custody dispute, and the father was afraid that the mother of his children was going to take them out of the country. His suspicions were confirmed when he found reservations – one-way tickets to Jordan – for his wife and their two children. The father called the National Center for Missing & Exploited Children, and that's when Eric Pond, a special agent from U.S. Immigration and Customs Enforcement's (ICE) Homeland Security Investigations (HSI) provided assistance. Pond confirmed the reservations, and law enforcement officials were able to escort the children off the plane before it departed the United States.
Pond is coy about his role in this investigation, but as the only HSI representative permanently assigned to the National Center for Missing & Exploited Children, he plays a crucial role in protecting and rescuing children. He has been assigned to the center for four years, and before that, served as the acting section chief for the Child Exploitation Investigations Unit at ICE's Cyber Crimes Center.
His role is vast. He requests information multiple times a day from the Treasury Enforcement Communications System for law enforcement agencies. The system houses a variety of information, including possible locations or travel records for missing children, parental abductions and sex offender absconders. Pond also assists the center's CyberTipLine, which takes reports from the general public and Internet service providers. Pond helps distribute the information received via the tip line to ICE attaché offices in foreign countries like Australia, Brazil, Canada, Mexico and the Philippines.
"The Center needs someone who has the authorities and global reach that HSI has," said Pond.
Pond also works with the National Center for Missing & Exploited Children to analyze images and videos for its Child Victim Identification Program. This program helps prosecutors obtain convictions by proving that a real child is depicted in child pornography images. In addition, it helps law enforcement officials locate and rescue unidentified child victims.
"Our partnership with HSI is critical. We are able to refer hundreds of CyberTipLine reports to international law enforcement every week through our Virtual Private Network," said John Shehan, executive director of the National Center for Missing & Exploited Children's Exploited Children Division. "Without the partnership with HSI, this wouldn't be possible."