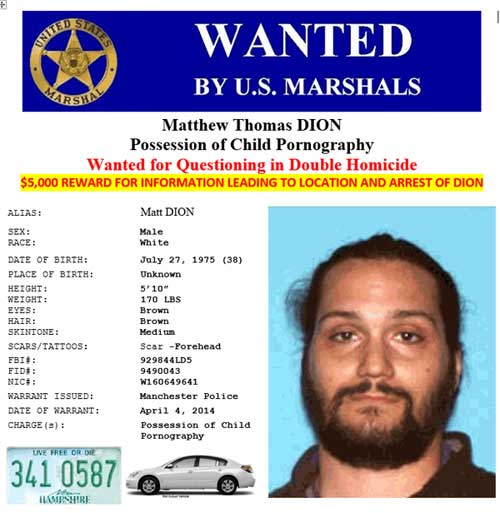 Wanted for Possession of Child Pornography & for Questioning in Double Homicide of his parents
Concord, NH – A $5000.00 reward is being offered by the U.S. Marshals Fugitive Task Force for information leading to the location and arrest of fugitive, Matthew Thomas Dion. Dion is wanted by the Manchester Police Department on an outstanding arrest warrant for Possession of Child Pornography, as well as for questioning, relating to the arson fire and homicides of Dion's parents.
Matthew Dion, age 38, was last known to reside in Manchester, NH and his whereabouts have been unknown since March 24th, the day an arson fire destroyed the family home on Mooresville Road. Tragically, after the fire was extinguished, the parents of Matthew Dion were discovered deceased inside the residence. The deaths of Robert and Constance Dion were determined to be homicide. During the extensive crime scene investigation conducted by the Manchester Police Department, some materials belonging to Matthew Dion were discovered and determined to be child pornography, which led to the outstanding arrest warrant for Matthew Dion. Matthew is also wanted for questioning regarding the fire and homicides of his parents.
At the time that Dion disappeared after the fire, he was reportedly driving a 2009, White, 4 Door, Nissan Altima with NH license plate number 341-0587. It is possible that Dion has changed his physical appearance in an effort to conceal his identity. Based on this information, the Marshals Fugitive Task Force through their relationship with the National Center for Missing and Exploited Children (NCMEC) requested a composite image of Dion be created to show him without facial hair. Attached to this release, you will find several photographs showing different appearances and more detailed photographs of Dion.
Dion could be anywhere across the U.S. or beyond and it is important to remind the public not to attempt to apprehend Dion, but to report any information to the U.S. Marshals Service or their local police To speak with the case agents, Deputy U.S. Marshal Greg Murano or Task Force Officer Daniel Doherty, please call the U.S. Marshals in NH at (603) 225-1632, or call 1-877-WANTED-2, or submit a WEB-TIP, or Send a Text message that begins with NHTIP followed by any information to TIP411.
Since the inception of the New Hampshire Joint Fugitive Task Force in 2002, these partnerships have resulted in over 5,523 arrests. These arrests have ranged in seriousness from murder, assault, unregistered sex offenders, probation and parole violations and numerous other serious offenses. Nationally the United States Marshals Service fugitive programs are carried out with local law enforcement in 94 district offices, 85 local fugitive task forces, 7 regional task forces, as well as a growing network of offices in foreign countries.